our mission​
​Here at Posh Doodles, our mission is to provide the highest quality Doodle puppies that are bred specifically with families in mind, the perfect addition to any home. If you are looking for a superior quality puppy with a wonderful personality, which has been lovingly cared for and well socialized by a small family breeder, then your search ends here!
​
Temperament is our priority, health is guaranteed, and gorgeous teddy-bear looks are a bonus! Our puppies are playful, cuddly, and really great with children. Our adorable puppies are stopped all the time by people in the street just to adore the cuteness! All of our puppies are well-socialized and very loved from day one.
OLD ENGLISH SHEEPDOG​
65 pounds
Silver & White Tuxedo straight coat
​
Find the answers to frequently asked questions.
Who are you?
---
My name is Tiffany! Here at Posh Doodles, I am passionate about producing phenomenal Teacup Goldendoodle puppies and preparing them for a successful life with your family. I strive to produce puppies with the absolute best health, temperament, and appearance. My program is successful with the help of my amazing team consisting of my family and friends who are guardian homes for my parent dogs and their puppies. Nothing makes me happier than matching families with the perfect Doodle for them! Pictured is my little girl, the best puppy helper ever!
---
Where are you located?
---
We are located in the Salt Lake City, Utah area, about 15 minutes from SLC airport!
---
What are your prices?
---
Our puppies rage in price from $4500 to $7000 depending on size and coat/markings. We do not change price by gender.
---
What is your adoption process?
---
You can learn more about our adoption process by clicking on the photo below.
---
What is your guarantee?
---
Each of our puppies come with a LIFETIME guarantee that covers 11 genetic diseases that are listed below. Other breeder will guarantee against 150+ diseases but most do not affect the Poodle or Golden Retriever, the Goldendoodle parent breeds, so they will not affect your puppy. We guarantee against diseases that actually matter to Goldendoodles! The diseases we have a lifetime guarantee against are Degenerative Myelopathy, Ichthyosis, Neonatal Encephalopathy with Seizures, Osteochondrodysplasia, Progressive Retinal Atrophy GRT 1, Progressive Retinal Atrophy GRT 2, Progressive Retinal Atrophy - Progressive Rod-Cone Degeneration, Von Willebrands Disease 1, GM2 Gangliosidosis, Muscular Dystrophy, and Osteogenesis Imperfecta. This guarantee does not cover possible intestinal parasites or hypoglycemia, which can be caused or be caught from stress or travel. It does also not cover minor under/overbites or undescended testicles, which do not affect the life of your dog.
---
What comes with my puppy?
---
We send our puppies home with a Posh Doodles bag with their personal health record, some puppy food they have been eating, a toy and blanket that smells like mom and siblings to help them with their transition to their new home, and a few other goodies. Puppies also come with a free month of health insurancce through Trupanion, that needs to be activated within the time period 24 hours before or after getting your puppy. To activate your free month of health insurance, call 855-266-2156 and give them the breeder code "BR1PD12119" to activate!
---
Which payment options do you accept?
---
Payment options I will accept: • Zelle • Bank Transfers • Venmo Payment options I will NOT accept: • PayPal • Cash PayPal does not allow pet sales on their platform, and I don't want my account to be taken down by using it for that. I also do not accept Cash as I like to have record of all the payments that come through. No available puppy will be reserved without payment! Any and all payments towards puppies are considered retainers and are non-refundable under any circumstances.
---
How do you raise your puppies?
---
We take what we do seriously and are very intentional in the way we raise our puppies! ​Each litter of puppies grows up in a nursery in our living room. This exposes them to every day family living and the noises and sounds that are associated with that, as well as frequent contact with us. Every puppy receives one-on-one socialization from the day they are born until they day they leave our home. We use the Early Neurological Stimulation protocol which has been proven to give puppies a greater resistance to stress and disease, stronger heart rates and stronger heart beats, along with a stronger adrenal system. We also start potty training early, starting at just 3 weeks of age. Our families have told us their puppies rarely have potty accidents when they get to their new homes when kept on a strict schedule! In this way, we succeed in raising incredibly lovable Doodles with the sweetest temperaments. The puppies spend their days playing in the house, socializing with adults and children, and exploring outside.
---
How are your parent dogs raised and where do they live?
---
Our dogs live freely with us in our homes as family members, so you won't find any kennels here! Each of our mamas only has a max of 4 litters so they can retire early and enjoy their life with their forever families. We want all of our dogs to have as much space and freedom as they want and each one gets to experince things every dog should, like going on walks, swimming in lakes, camping, traveling, and much more with their Guardian family. You will always find them curled up on the couch or in bed with us! We only have one or two dogs per Guardian family, and never have more than two litters at a time in the same home. This allows us to give each puppy from every litter all of the love, attention, and socialization they need and deserve and helps them to become the best family pets they can be. It is unfair to puppies and parents to divide your full attention to multiple litters at once, and cuts the time for love, attention, and socialization for each puppy when there is more than one litter at a time. I don't know how big kennels with multiple litters at once can do it properly and do right by their parent dogs and puppies!
---
Do you health test your parent dogs?
---
Of course we do! Genetic screening of the moms and dads for inherited diseases should be an integral part of any breeding program. Although it's costly, Posh Doodles voluntarily chooses to screen all of our dogs (over 100 genetic tests per dog plus additional coat and color testing) prior to breeding because we know that screening our parents is crucial in producing happy and healthy puppies. Please be responsible and only purchase a puppy from a reputable breeder who health tests their dogs prior to breeding!
---
Do your puppies come up to date on shots and michrochipped?
---
Your puppy will receive their first set of vaccinations at 6-7 weeks of age and will be dewormed multiple times before going home. We do not remove dewclaws since it's barbaric and detrimental. Your puppy's next set of shots will be due between 10-12 weeks of age at your vet. We recommend not taking your puppy to public places where there have been dogs unknown to you until they have finished their vaccination schedule with your vet. ​ You must take your puppy to the vet for a wellness visit within 72 hrs of your puppy coming home so your vet can make sure your puppy has arrived in good health. ​ We do not microchip our puppies before they go home for a couple reasons: 1. Puppies grow very quickly in their first 6 months of life. When you microchip a young puppy the placement of the chip often moves as the puppy grows. We recommend having your puppy receive their microchip during spay/neuter at 6 months of age so the chip will be in the right placement at adulthood. 2. Many people don't change over the registration into their name once the puppy goes home. If your puppy ever does become lost, registering it when they are a little older would make your puppy registered to you and/or your vet- who would have your current contact details and have the best chance of locating you.
---
Do your puppies come with breeding rights?
---
NO, All Posh Doodles' puppies are exclusively sold as PETS ONLY without breeding rights! All Posh Doodle's puppies must be spayed/neutered by 12 months of age, and verification of this must be sent to and confirmed by me. Our puppies are intended to be loving family pets only, and are not sold to people for breeding purposes on any basis. We have taken a long time perfecting our lines and do not share them with just anyone who has the money to pay for them. Please do not ask for breeding rights, the answer will be NO. If we find out you have the intentions to breed your puppy before you take them home, your deposit will be forfeited and you will not be getting your puppy from us. If we find out you plan to or have bred your puppy after taking them home, your dog and any puppies produced will be confiscated and you will have to pay a $20,000.00 fine.
---
How can I get my puppy home if I live out of state?
---
Whichever way you choose, we are very experienced in helping our babies travel to their new homes, and will be happy to work with you in any way we can! There are three options for you to get your new puppy home: 1. Hand Delivery via Flight Nanny: We can hand-deliver your puppy to an airport near you! We work with Puppy Port, who will deliver your puppy to you in the comfort and protection of the airplane cabin. Hand-delivery to the continental US is $500 to $850 depending on location. This fee includes your puppy's health certificate, carry on bag, flight, and transportation to the airport. Learn more here: puppyport.co *At this time, unfortunately we cannot deliver outside of the continental United States* ​​​ 2. Pick Up at SLC Airport: You are welcome to fly in and take your puppy home as a carry-on yourself! We can meet you at the SLC International Airport in the drop off lane.​ You will need to bring a soft crate for your puppy's flight home and book them a ticket through the airline. Please make sure you contact me before booking your puppy's flight home to make sure I can make the drop off time work! 3. Pick Up from Us in Utah: Local families and those who wish to drive to pick up their puppy are welcome for scheduled pick-up! We are located about 20 minutes from the Salt Lake City Airport. ​ We do not ship our puppies in cargo! We work very hard to ensure their confidence, adaptability, and easy-going nature and would hate to break that trust and confidence that our puppies have gained in the first weeks of their lives.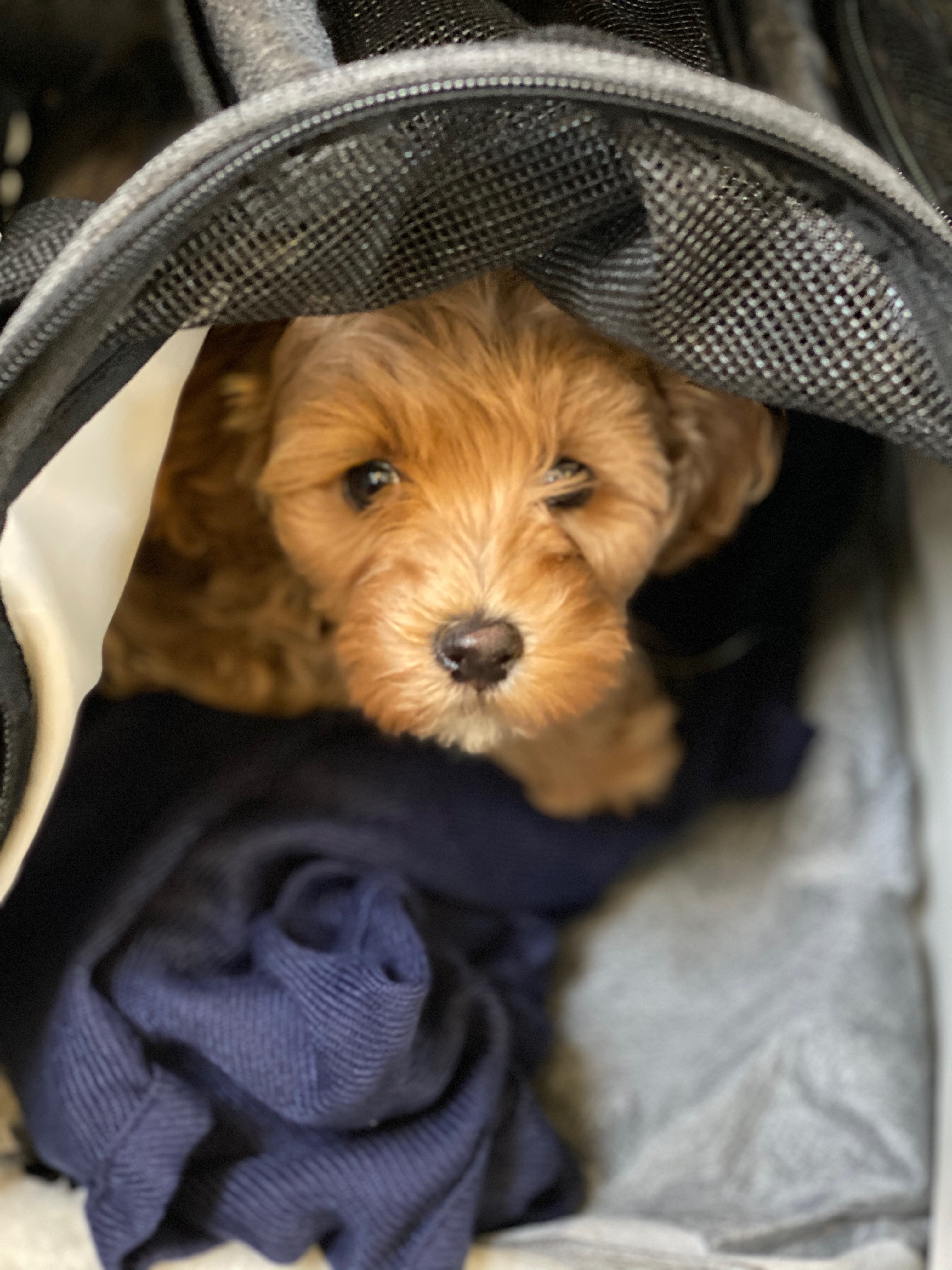 ---
Do you require my puppy to be fed a special food or supplement after going home?
---
We do NOT require you buy a specific food or health supplements to have our lifetime guarantee like many other breeders do. Health does NOT come from special expensive foods or supplements!!! It DOES comes from health tested parents and good breeders who do the best for their puppies! ​ This includes foods and supplements like Life's Abundance, PAWTREE, NuVET, and many more companies which are MLMs, and make these other breeders extra thousands of dollars each month you buy these food/supplements. Many breeders make you use one or more to even give your puppy any sort of health guarantee!! Please be wary of breeders that promote these companies! ​ Here is an expert from an email from one of these MLMs that contacted ME: "... I work with many well known Doodle breeders whom love [name removed] and add $10k+ to their annual revenue. Once they start they always wish they had done so sooner." This is only one example of the MANY emails I have received from these MLM companies. We don't breed and raise our puppies to just try to make extra money off of our families every month for the lifetime of your puppy, we do it because we love it and it is our passion!
---
What happens if I can't bring my puppy home on pick up day?
---
We do our best to work with different schedules and try to be flexible with puppy go home arrangements. There is a three day grace period for your puppy's go home date. If you cannot get your puppy within three days after the go home date, we can board your puppy at our home for you. The cost to board your puppy is $25/day for up to one week after the original go home date. Boarding fees must be paid IN CASH at pick up, and go home arrangements must be made no later than when your puppy is 6 weeks of age.
---
Do you guarantee the adult size of your puppies?
---
I wish I could, but unfortunately cannot! I wish I could see into the future and know a puppy's full grown weight and height, but just like with children you cannot predict adult height/weight. We do make our best educated guess as to what your puppy will weigh based off of our years of experience, what the parents weigh, what past puppies have weighed, and what grandparents weighed. Very rarely does a puppy weigh more than it's parents. Other factors also come into play also like being overweight, amount of excersise, and length of hair! I am often asked this, but size at birth or the first couple months does NOT often affect adult size, since litter size affects the size of the puppies when they are born. This is because the more puppies there are in a litter, the less room they have to fit in mom's uterus so the puppies are smaller, and vice versa. Smaller litters = larger puppies at birth; larger litters = smaller puppies at birth. At nine to ten months old, Teacup Doodles should be at or close to their adult size. Around 12 months for Mini Doodles. We have found once your puppy is about 3-4 months old you can chart their adult weight at www.puppychart.com. Just choose any breed like poodle (they do not have a Doodle option) and follow the directions. The breed does not change the outcome of the results! We have found this website to be pretty accurate.
---
Can I visit the parents and puppies before I adopt my puppy?
---
For safety and health reasons, we do not allow random visits to our home. ​ We want to give families the opportunity to get to know us and see what we are all about, and we try to do that as much as we can through our website and communications with you. I'm proud of the love and care that we show our dogs. Unfortunate, in our world today there are so many dangers to allowing strangers in your home. We do our best to show the pups to families but we have several factors to consider: ​ 1. Health concerns for the puppies: including parvo, giardia, and coccidia. ​ 2. Puppy theft has become a real problem recently! ​ 3. We have far too many families wanting to meet the parent dogs or puppies before placing a deposit. Mothers and fathers for each litter don't live in the same home, making it almost impossible for families to come meet both parents at once. I also cannot have the 30+ families that contact me daily wanting to meet parents and puppies come see them before placing a deposit come meet the puppies. ​ 4. These puppies are not ours to risk. They belong to families that are taking them home! ​​ Only families that are adopting a puppy from us can come visit, on their puppy's go home date. We cannot accept any other visitors. Puppy families MUST NOT visit any places on the same day that may have had other dogs there (parks, pet stores, vets offices, etc). You MUST take off your shoes before entering our home and wash your hands before handling the puppies to avoid spread of disease. If you bring children with you, they must sit on the floor and hold the puppies in their laps. Thank you for your understanding, our puppies always come first!!
---
Do you guarantee non-shedding/hypoallergenic dogs?
---
Again, I wish I could, but unfortunately cannot! There is no such things as a completely "non shedding" dog. All dogs shed hair, just like humans also shed hair. Any breeder telling you otherwise isn't telling oyu the truth! Puppies will also go through coat changes as they age older.
---
---